Makan je kan...bulan puasa ni rasanya banyak sangat saya post pasal makanan..hihi...nak cite je pasal makanan yang memang dari Kelate.
Nearby to my house ni ada satu kedai makan, kedai ni saya panggil Kedai Kelate Kak La..even bukan bulan puasa pun dia memang meniaga, so memang tau la dia punya kesedapan tuh..*tapi tak leh challenge Kelate la kan?* kat situ ada banyakkkkkk sangat makanan...tapi ada la yang saya nak tapi tak de..
On that day, my hubby kena berbuka kat luar, so saya pun rasa malas nak ke rumah my PIL, so decide nak berbuka kat rumah je la..so saya pergi beli nasi kerabu je la kat kedai tu..masa sampai tu around 5...orang dah beratur panjanggg..tapi owner tak sampai lagi...huhu..dalam 15minit cam tu baru la sampai...lauk memang banyak la...so kalau saya nak beli..mana tau kan tetiba malas nak masak ke..boleh la beli kat kedai ni..macam last year dia ada buat ayam percik..tapi tahun ni tak de la pulak..tapi saya just bungkus nasi kerabu, lauk ayam goreng, ikan rebus goreng and solok and for Adib, nasi putih lauk kari ayam...pastu ternampak la nek bat..nek bat memang salah satu favorite jugakla...dia rupa macam baulu..tapi di sira dengan air gula..uols tau la kan...orang Kelate kan suka manis2..
Here a few je la gambar yang sempat diaambil..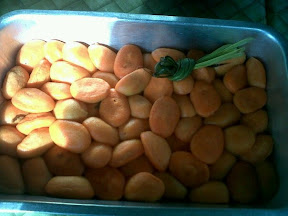 - Posted using BlogPress from my iPad